Taiwan trade offers a wide range of opportunities successful business ventures. Total trade is over $230 billion. It is the 7th largest trading partner of the US with over US $50 billion in two-way trade. The region is an excellent market for many types of products and services. Plastics is one of Taiwan's key industries.
The economic outlook for Taiwan is promising. A number of initiatives are aimed at closer integration of Taiwan trade with the world economy, including China. Taiwan's predominantly small- and medium-sized enterprises have experience that gives them great flexibility. Taiwan's business people are demonstrably adept at, among other successful business traits, quality control, on-time delivery and working with international business partners.
Unquestionably, one dimension of Taiwan's comparative international trade advantage is its proximity to and familiarity with China. Aside from obvious cultural and linguistic strengths, Taiwanese have extensive experience operating throughout China's numerous and disparate markets. This makes local companies and professionals attractive partners for foreign businesses wishing to invest in Taiwan as well as use the island as a platform for China investment. Such developments make these companies attractive partners for U.S. and other international firms.
Worldwide Trading Company can help your Taiwan trade opportunities. Over the past three decades we have developed direct contact and established business relationships with such companies. They are reliable, high quality manufacturers of a wide variety of plastics and other materials products.
We also maintain, and continue to develop, strong relationships with distributors and other buyers with wide coverage of North American manufacturing products markets. So if your company is seeking to expand its North American markets for your products, we also can help.
If you are seeking Taiwan trade opportunities, our demonstrated combination of successful trading and market experience WILL make a difference for you. Contact us now!
Click here to send your confidential inquiry. We'll respond within 24 hours.
Taiwan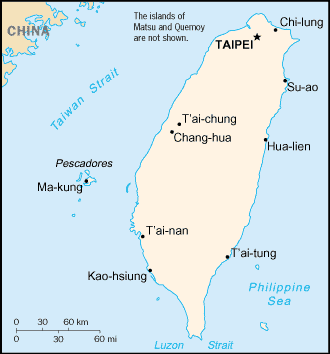 Taiwan or Formosa, island in East Asia, and, since the Communist victory in 1949 on the Chinese mainland, the seat of the Chinese Nationalist government (not recognized by the People's Republic of China). It is separated from the Chinese mainland by the Taiwan (Formosa) Strait and is bordered on the north by the East China Sea, on the east by the Pacific Ocean, and on the south by the South China Sea. In addition to the island of Taiwan, the country includes the or Pescadores, the small Quemoy Islands off the mainland city of Amoy (Xiamen), and the Matsu group off Fuzhou (Foochow). The People's Republic of China claims Taiwan as one of the provinces of its republic. The area of Taiwan is about 36,000 sq km (13,900 sq mi). The capital and largest city of Taiwan is T'aipei.

Official Name- Republic of China (Taiwan)
Capital City- Taipei
Languages- Mandarin Chinese, Taiwanese, Hakka dialects
Official Currency- Taiwan Dollar
Religions- Buddhist, Confucian, Taoist, others
Population- 22,412,000




Land Area- 32,260 sq km (12,456 sq miles)